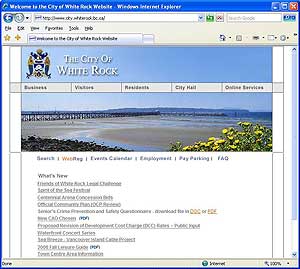 City of White Rock
15322 Buena Vista Ave
White Rock, BC V4B 1Y6

Main Phone: 604-541-2100
Main Fax: 604-541-9348
Main Website: www.whiterockcity.ca/

HR Phone: 604-541-2158
HR Fax: 604-541-2150
HR Website: www.whiterockcity.ca/Jobs.aspx
HR Email: hr@whiterockcity.ca
The City of White Rock is a unique, vibrant, oceanside community of 20.000 residents known for its sunny weather, expansive beach, historic pier, delightful restaurants, and sense of community. Located half an hour south of Vancouver on the shore of Semiahmoo Bay, White Rock continues to maintain a character that distinguishes it from surrounding cities. The City of White Rock employs approximately 100 regular full-time staff, with additional casual, auxiliary, temporary, and seasonal positions whose numbers fluctuate throughout the year.
View The Current Listings
Map to City Hall